The Best Places To See The Holiday Lights in San Diego And Beyond
The holidays have arrived!
Not only do we love this time of year, but we love seeing all of the gorgeous lights and decorations all over San Diego and North America.
Local
1. BALBOA PARK
Jungle Bells at the San Diego Zoo. Celebration of Lights and Carol of the Jungle Bells light experiences, Twinkle Light Trolley and live entertainment. Dec. 10-Jan. 2, 9 am-8 pm (til 5 pm Dec. 24). 619-231-1515.
Luminaria: Trees, lamp posts, roofs and courtyards all decorated with lights. Along 30th St. and Fern St. from Juniper to Grape to Beech. Nov.27-Jan. www.SouthParkScene.com
The Forward House in Bankers Hill: Experience the sight and sounds of the season at 108 Ivy St. (1st & Ivy). Built in 1905 for Mayor John Forward Sr, adorned with lights every season since 1998. Nov. 24-Dec. 31, 5–10 pm. 619-533-7904.
3. CARLSBAD
7607 Romeria St. Nicknamed "The Carlsbad Christmas House". Walk up to see the animated window display, swimming penguins, surfing Santa, Snoopy skating and three snow machines. Food drive donations accepted. Dec. 4-31, 5-9 pm.
6646 Elegant Tern Pl. Real Santa's mailbox for the kids and treats nightly. Santa writes back a free personalized letter to each child. Free community event Dec. 15 with cotton candy, crafts, bubbles and a special guest. Dec. 3-25, 5-10 pm.
2329 Snead Dr. Lights, lights, lights, Santa arrives by hot air balloon, nativity scene, animated elves and Santa village light display. Walk up to see a Christmas scene in the garage. Dec. 5-31, 5:30-9 pm.
4. CARMEL MOUNTAIN RANCH
Fairway Village: east and west sides of Stoney Gate Pl. 80 homes decorated in "Holiday Magic". Dec. 10-Jan.1, 5:30-10:30 pm.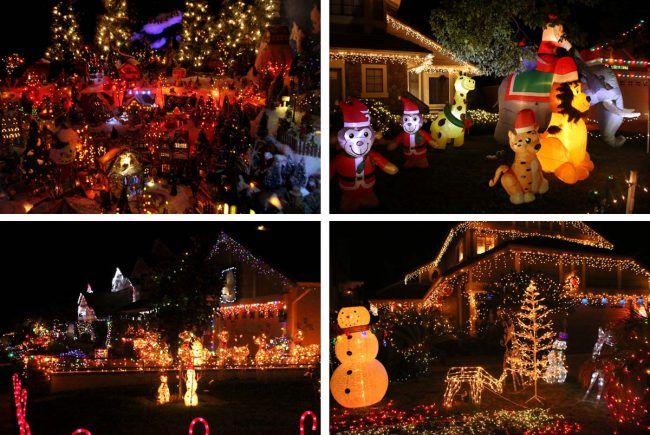 5. CHULA VISTA
Whitney St./Mankato. Circle between First and Second Ave. off H St. & 1st Ave. "Christmas Circle." 61st year of decorating 55+ homes. Dec. 10-26, 5-10 pm.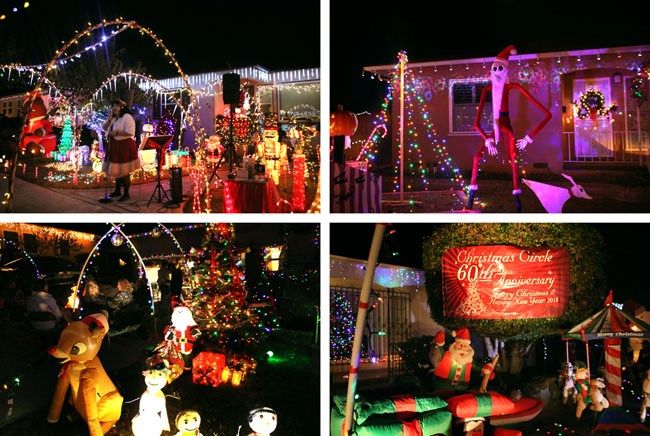 6. CLAIREMONT
Lana Dr. & Jamar. Off Mt. Abernathy Ave. Circular street. "Clairemont Christmas Park". 40+ homes decorated. Dec. 1-24.
5404 Mt. Burnham Dr. Features a 96-channel animated light display to 98.5 FM. North Pole village display, train and animated figures display in garage. Dec. 12-31, 6-10 pm.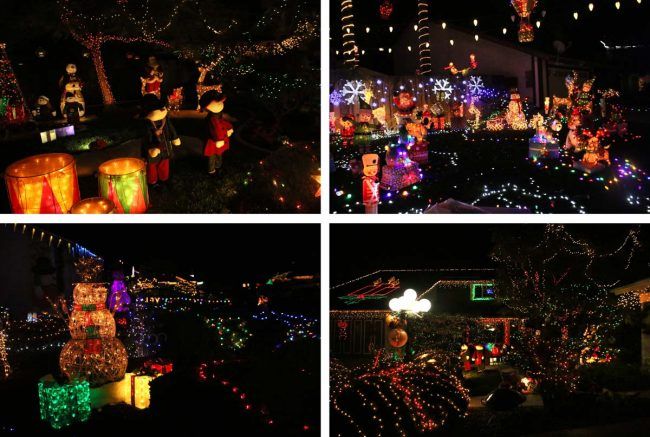 Hotel del Coronado. Hotel del Coronado Celebrate the magic of the holidays as America's beachfront legend transforms into a winter wonderland of ice and lights, sparkles and snowflakes. With its magnificent outdoor ice skating rink and DELights, The Del is celebrating all things shiny and bright. Join friends and family for lavish feasts, Victorian teas, festive parties and holiday traditions. 1500 Orange Ave. 619-522-8490.
8. EL CAJON
Jingle Bell Hill (also known as Pepper Dr. Lights). Solomon Ave./Pegeen Pl. and surrounding area. Off 67 & Bradley. Dec. 7-26, Mon-Th, 6-9 pm, Fri-Sun, 6-10 pm.
11456 Pegeen Pl. "Nightmare Before Christmas" theme, complete with Jack, Sally, Zero, the Mayor & Oogie Boogie. Santa may make a surprise visit. Dec. 5-Jan. 1, Mon-Th, 6-9 pm and Fri-Sun, 6-10 pm.
1838 El Pico Dr. Off Hacienda Dr. 53rd year decorating the 20-ft. star that's 100 ft. up. Nov. 29-Dec. 31. Also see a 55-ft. train. Dec. 8-31, dusk-10 pm.
9777 Valley Ranch Rd. Cul-de-sac of lights programmed to 89.1 FM/87.9 FM. Giant dazzling trees, twinkling stars and a Winter Wonderland of computerized light and music shows. Nov. 28-Dec. 31, 5-10:30 pm.
9. LAKESIDE
10248 Paseo Palmas Dr. 20+ houses nicknamed "Tinsel Town." Dec. 5-25, 5:30-9 pm.
10. LEMON GROVE/LOMITA
2618 Sheri Lane. Cul-de-sac turns into Santa Claus Lane. Light show at 6:30 pm and every 30 minutes on 89.9 FM. Dec. 1-31, 5:30-9:30 pm.
1562 Peacock Blvd. Rudolph, Christmas trees and lights. Dec. 10-Jan. 5. 5:30-10 pm.
Oceanside Harbor Parade of Lights. Boats decorated in holiday lights circle Oceanside Harbor. 760-722-5751. www.oceansideyc.net
San Diego Botanic Garden "Garden of Lights". 125,000+ lights illuminating the Garden. Horse-drawn wagon rides, live music, holiday crafts, visits with Santa and marshmallow roasting. Dec. 3-23 and 26-30, 5-9 pm. Adults, $15-$20, children 3-12, $5. 230 Quail Gardens Dr., Encinitas. 760-436-3036.
Mission Bay Christmas Boat Parade of Lights. Over 100 vessels. Begins on Quivira Basin. Dec. 10, starts at 7 pm. 858-488-0501. www.mbyc.org
San Diego Bay Parade of Lights. 45th Anniversary. "It Began with a Roar – San Diego Zoo Celebrates 100 Years" theme. Dec. 11 & 18, 5 pm. Starts off Shelter Island, goes through the harbor and ends at the Ferry Landing, Coronado.
13. POWAY
12631 Stoutwood St. Off Twin Peaks Rd. & Deerwood St. Nicknamed "The Griswolds." Dec. 1-Jan. 1, 5:30-10 pm weekdays, 11 pm weekends.
Hickory Ct./Hickory St., 12659 Butterwood Ct. and Rockrose Ct. All off Twin Peaks Rd. & Silverset St. named "Candy Cane Courts." Entire cul-de-sacs are lit up. Dec. 10-24, 6-9 pm.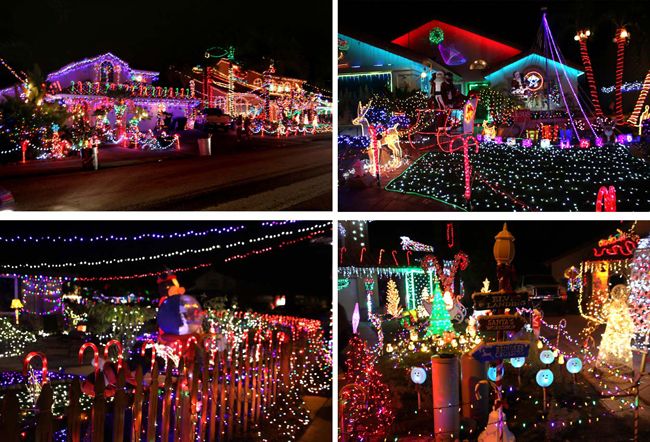 14. PARADISE HILLS
2160 Reo Dr. 14th year of decorating. Nov. 21-Dec. 31, 7pm-midnight.
15. RAMONA
23542 Bassett Way. "Happy Lights Ramona" with 30,000+ lights animated to music on 106.9 FM using 996 computer channels to control the lights. Nov. 24-Jan. 1; Sun-Th, 5:30-10 pm; and Fri & Sat, 5:30-11 pm.
16. RANCHO PEÑASQUITOS
Oviedo St. Off Black Mountain Rd. "Christmas Card Lane." Also enter off Twin Trails Dr. & Carmel Mountain Rd. Dec. 9-31, dusk-10 pm.
1639 Knob Hill. Off Nordahl Rd. Between Tam O' Shanter Dr. & Augusta Dr.; 29th year of decorating. 100,000+ lights plus themed displays. Nov. 24-Dec. 30, 5-9 pm. See Santa Dec. 14-23, 6:30-8 pm.
18. SCRIPPS RANCH
Stonebridge Parkway and Merritage Ct. Nicknamed "Merry-tage Court", entire street lit up with fun themes. Dec. 1-31, 5:30-9:30 pm.
5306 Belardo Dr. Off Via Valarta at Via Playa De Cortes. 100,000 lights and decorations all sequenced and animated to music at 106.1 FM. Nov. 26-Dec. 26, 6-10 pm.
Starlight Circle/Sunburst Santee. Tomel Court, off Magnolia. Many homes lit up. Dec. 17-26, dusk-10 pm.
9325 Pebble Beach Dr. Displays on house and yard set to music. Dec. 1-31, dusk-10 pm.
9435 Saint Andrews Dr. Santee's gingerbread house with over 12,000 lights. Nov. 28-Jan. 1, dusk-10pm.
9773 Roe Dr. 27,000 Christmas lights dance to 10 songs over 128 computer channels. Food Bank and St. Jude donations accepted. Dec. 3-Jan. 2. Sun-Th, 6-10 pm and Fri & Sat, 6-11 pm.
North America
1. Hershey Sweetlights | Hershey Park, Pennsylvania
Experience the magic of nearly 600 illuminated displays from the comfort of your heated car! Hershey Sweetlights, is located inside of Hershey Park and is a part of Hersheypark Christmas Candylane, a seasonal festival held every year at the park that includes over 4 million lights, rides and roller coasters and more.
2. Winter Festival of Lights | Niagara Falls, Ontario
This spectacular celebration dates back to 1982 and is Canada's largest illumination festival. Over 1.8 million people flock to Niagara Falls every year to enjoy 15 Canadian Wildlife displays, over fifty trees wrapped in lights, the world's largest Canadian-American Flag, a light show on the Toronto Power Generating Station, the two-storey tall Zimmerman Fountain, and a visitor favourite, Noah's Ark!
3. Illumination at Morton Arboretum | Lisle, Illinois
This award-winning light show is a mile long walking tour through the 50 acre arboretum with stunning lights, music, and projections. You can even warm up by the crackling fire while roasting marshmallows!
4. Austin Trail of Lights | Austin, Texas
See Zilker Park transform into the walk-through Trail of Lights that attracts thousands of locals and tourists every year. The celebration includes two million lights, 90 holiday trees, over 70 displays, and nightly entertainment. This year marks the 55th annual celebration!
5. Busch Garden's Christmas Town | Williamsburg, Virginia
Busch Gardens goes all out for their holiday celebration, including over 10 million lights, a tree maze, rides and coasters, festive food and drinks, holiday shopping, and heart-warming shows. Even Rudolph stops to make an appearance at the celebration!
6. Denver Botanic Gardens | Denver, Colorado
Celebrate the holiday season at the Blossoms of Light at the Denver Botanic Gardens! This event has been a local favorite for over three decades and transforms York Street into a winter wonderland. You won't want to miss the spectacular 360-degree immersive light experience!
7. Disneyland | Anaheim, California
Who wouldn't want to celebrate one of the most magical times of the year at one of the most magical places in the world? As expected, Disneyland goes all out for their seasonal celebration with festive decor, classic park attractions turned into a winter wonderland, and the Season of Lights evening shows.
8. Festival of Lights | Vancouver, Canada
Hosted in the VanDusen Botanical Garden, the Festival of Lights is a yearly celebration that includes a carousel, mesmerizing dancing lights on Livingstone Lake, Santa's Lodge for free photos with Santa, and tons of selfie spots and photo opps for the whole family!